Thomas's Innovation Wrap #24
🔬 Living robots, 🌞 investing to combat climate change, and 👁️ the end of privacy
Greetings,
Here's your weekly wrap of technology, innovation, and finance news.
🔬 Biology
Researchers have built the first living robots out of repurposed frog cells.
Though only a millimetre or so across, the artificial organisms Dr Bongard and Dr Levin have invented, which they call xenobots, can move and perform simple tasks, such as pushing pellets along in a dish. That may not sound much, but the process could, they reckon, be scaled up and made to do useful things. Bots derived from a person's own cells might, for instance, be injected into the bloodstream to remove plaque from artery walls or to identify cancer. More generally, swarms of them could be built to seek out and digest toxic waste in the environment, including microscopic bits of plastic in the sea.
💊 Health
Mojo Vision has created smart contact lenses that create an augmented reality display in a user's field of vision. There's no timeline for launch, but the company has received US FDA approval as a "breakthrough" device to test the contact lens to help people with visual impairments. For people with regular vision, using the hard scleral lens may have risks that outweigh the benefits.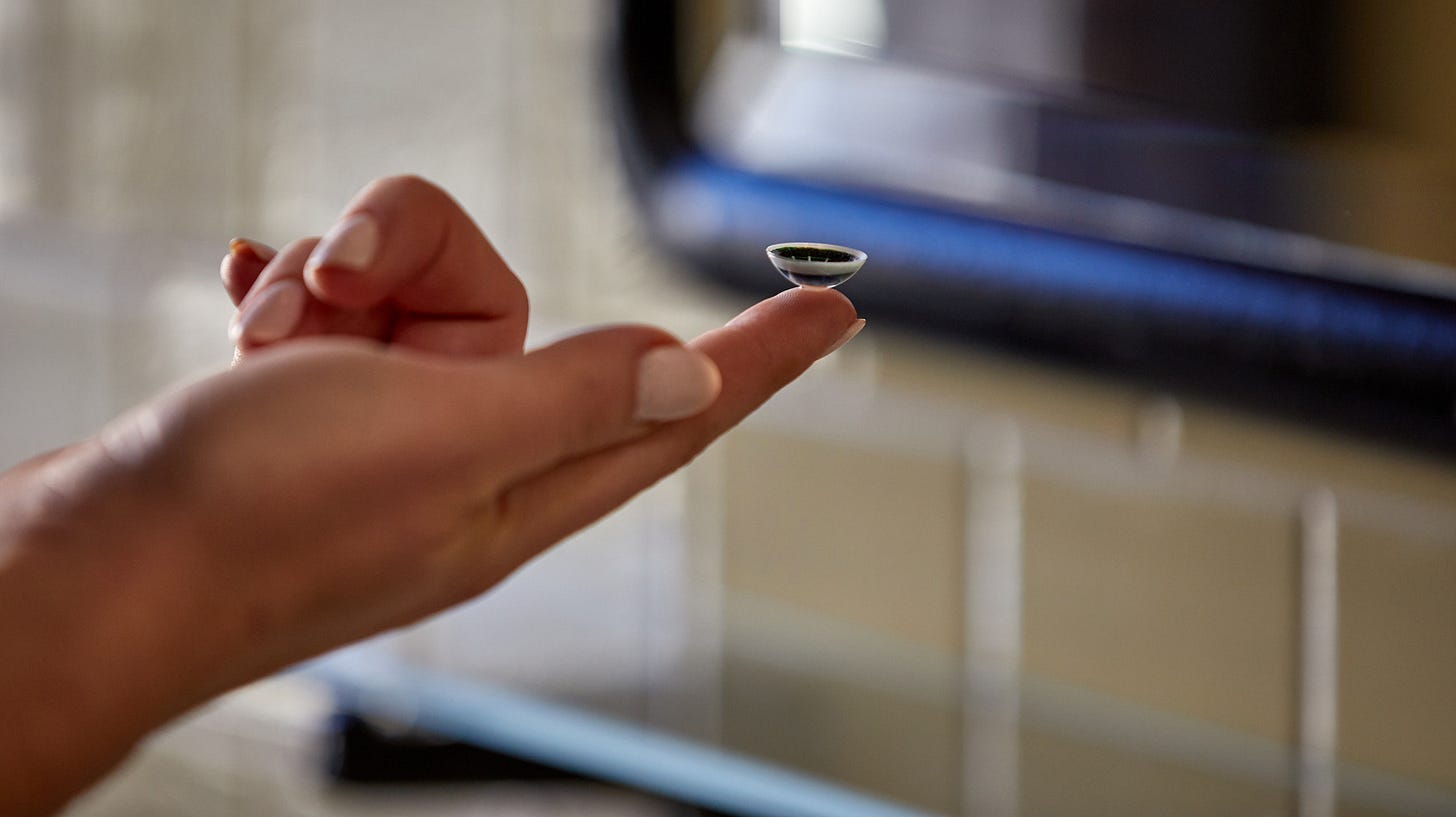 Physicists have developed a process to modify red blood cells so they can be used to distribute drugs to specific targets within the body.
"We call these super-human red blood cells. We think that they could work as the perfect stealth drug carriers which can outsmart our immune system," explains Maikel Rheinstädter, a senior advisor on the study and professor in the Department of Physics & Astronomy at McMaster.
Researchers have identified a possible missing link in the pathology of Alzheimer's.
💲 Finance
Alphabet has become a $1 trillion market capitalisation company for the first time! It's the fourth US company to do so after Apple, Microsoft, and Amazon.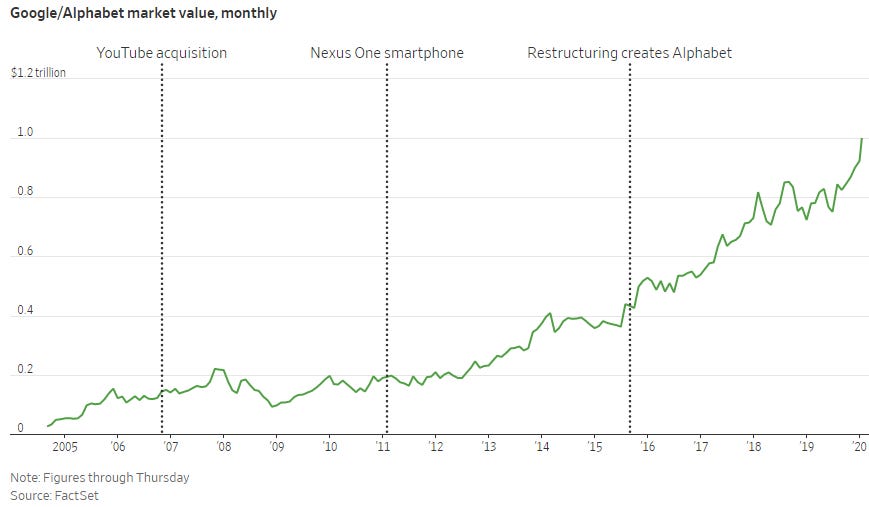 ATM is a new Wall Street acronym that stands for Alibaba, Tencent, and Meituan Dianping. It's gaining popularity over BAT after Baidu fell 20% and Meituan Dianping rose 132% in 2019, causing Meituan Dianping replacing Baidu as the third biggest internet company in China.
The Bank of England wrote a paper on global real interest rates from 1311 to 2018 which is covered by Quartz here. They find that negative real interest rates are more common historically than people realise.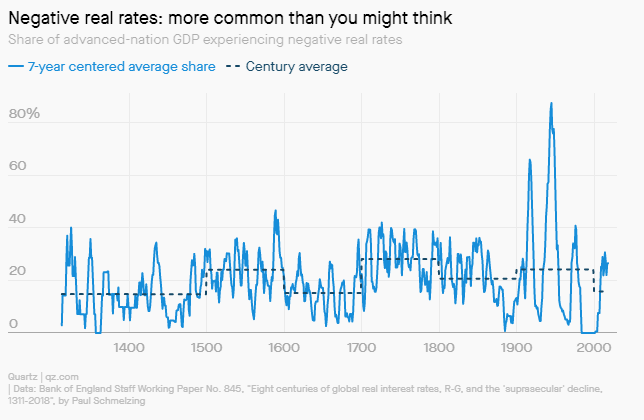 BlackRock, the world's largest investment manager, is exiting coal investments in their active funds. In a letter to clients, they said:
Thermal coal is significantly carbon intensive, becoming less and less economically viable, and highly exposed to regulation because of its environmental impacts. With the acceleration of the global energy transition, we do not believe that the long-term economic or investment rationale justifies continued investment in this sector.
🌞 Climate Change & Renewables
More companies are focusing on reducing their carbon emissions. Microsoft aims to be carbon negative by 2030, and by 2050 aims to remove all the carbon they've emitted into the environment since their founding in 1975. PepsiCo plans to power its US operations 100% by renewable electricity this year, and plans to cut their global emissions by 20% by 2030.
The EU unveiled a €1 trillion investment plan to fight climate change that would put the EU on a path to becoming the first carbon-neutral continent by 2050. The plan represents one quarter of the EU's budget.
Germany has set aside $50 billion to phase out coal-fired power stations.
In addition, operators of power plants will be provided with 4.35 billion euros across the next 15 years to compensate for the shutting down of their facilities.

Energy firm RWE, which operates lignite-fired power stations in Germany, said it would get 2.6 billion euros in compensation, adding that over 3,000 jobs would have to be cut in the short term, with total job losses rising to around 6,000 by 2030. Shares in the firm were up by more than 2% on Thursday afternoon.
A meta-analysis confirms that climate change is making wildfires worse.
In light of the ongoing wildfire crisis in Australia, Richard Betts at the UK Met Office in Exeter and his colleagues reviewed 57 peer-reviewed studies about the link between climate change and wildfire risk. All the studies found that climate change increases the frequency or severity of fire-favourable weather conditions.
James Murdoch has attacked his family's media empire, accusing News Corp's Australian publications of promoting climate change denialism.
Construction has started on the world's largest offshore wind farm. Dogger Bank Wind Farms is situated off the coast of England and consists of three 1.2 gigawatt offshore sites. Together they will generate enough energy to power 4.5 million homes per year.
Volkswagen is cutting its investment in hydrogen fuel-cell development as they believe they won't be as competitive as battery-electric drivetrains for at least another decade.
🧱 Advanced Materials
Sand, gelatin, and bacteria have been combined to create living bricks that match the strength of cement-based mortar. The living bricks even reproduce.
Just like cell division, a parent brick can be divided to produce two new bricks. Srubar and his team were able to repeat the process for three generations in a single week, obtaining eight bricks from the original parent.
Researchers have found a way to boost the power of piezoelectric materials by 50x while turning them transparent, which could lead to new applications like actuators for invisible robotics and screens that power themselves when touched.
🤔 The Disinformation Age
Gideon Lewis-Kraus from WIRED writes a thoughtful article on misinformation and the role of social media: Bad Algorithms Didn't Break Democracy.
In the end, as it becomes increasingly untenable to blame the power of a few suppliers for the unfortunate demands of their users, it falls to tech's critics to take the fact of demand—that people's desires are real—even more seriously than the companies themselves do. Those desires require a form of redress that goes well beyond "the algorithm." To worry about whether a particular statement is true or not, as public fact-checkers and media-literacy projects do, is to miss the point. It makes about as much sense as asking whether somebody's tattoo is true. A thorough demand-side account would allow that it might in fact be tribalism all the way down: that we have our desires and priorities, and they have theirs, and both camps will look for the supply that meets their respective demands.
👁️ Surveillance and Privacy
The New York Times profiles Clearview AI, company that might end privacy as we know it. The company allows users to upload an image of an individual and find other public images of that person (along with time and location it was taken) sourced from a database of more than three billion images they have scraped from Facebook, YouTube, Venmo, and millions of other websites.
But without public scrutiny, more than 600 law enforcement agencies have started using Clearview in the past year, according to the company, which declined to provide a list. The computer code underlying its app, analyzed by The New York Times, includes programming language to pair it with augmented-reality glasses; users would potentially be able to identify every person they saw. The tool could identify activists at a protest or an attractive stranger on the subway, revealing not just their names but where they lived, what they did and whom they knew.
The EU is considering a temporary ban on facial recognition in public spaces.
The FBI is pressuring Apple to create a backdoor that would allow the government to break encryption on the iPhone (again). Such a move would reduce security for everyone.
💎 Artificial Intelligence
Apple acquired Xnor.ai for $200 million, a Seattle startup focused on efficiently deploying AI on edge devices like smartphones.
Earlier this month NEON unveiled their artificial humans at CES, which are lifelike avatars that are simulated in real-time. The core of NEON's technology is an artificial neural network that generates realistic facial expressions and body movements that can be used to create more "human" interactions. For a deeper dive into what Neon is and what it isn't, see this video by Good Content | Tech (23 minutes).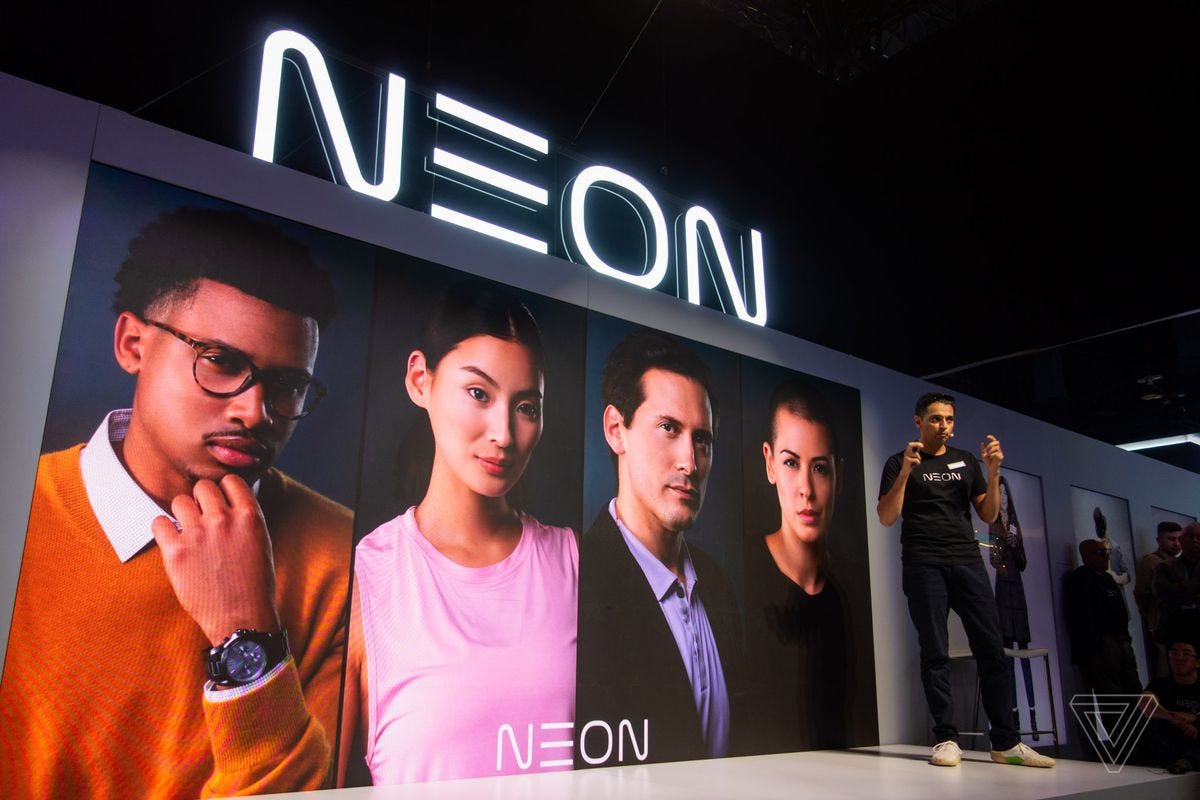 📱 App Economy
A recent meta-analysis shows there's no reason to panic about kids being on their phones.
Mr. Hancock's analysis of about 226 studies on the well-being of phone users concluded that "when you look at all these different kinds of well-being, the net effect size is essentially zero."
TikTok was the second-most downloaded app in 2019 (behind WhatsApp), and is estimated to be generating $40 million per month in revenue. In the US, consumers spent 85 million hours on TikTok in 2019, up from 15 million hours the year before, placing usage ahead of Amazon Prime Video and Twitch, but behind Netflix, Disney Plus, and Hulu.
🎮 Gaming
NPD released their top 20 best-selling games of the decade in the US. Call of Duty games account for 10 of the top 20 (and 7 of the top 10), while Grand Theft Auto V takes the top spot overall.
App Annie expects the mobile game industry to generate $100 billion in revenue in 2020, up 16% from $86 billion in 2019.
YouTube Gaming has signed three video stars as game live streaming competition increases between Twitch (Amazon), Mixer (Microsoft), and Facebook Gaming.
🛰️ Space
SpaceX tested a key safety system on the Crew Dragon, its spacecraft designed to carry people, by blowing up a rocket. The test passed (video here) and should mean SpaceX can start bringing astronauts to the International Space Station. A trip to the ISS on the Crew Dragon is expected to cost NASA $55 million per person, a reduction from the current cost of around $86 million per person.
European researchers are working on a system to extract oxygen from moon dust.
All this work is a lead-up to a system that could function on the Moon. The ESTEC scientists are aiming to have a functional, Moon-ready version by the mid 2020s. Equipped with such a device, future lunar explorers and colonists will be able to breathe a bit easier.
NASA researchers are investigating growing lunar bases from fungus.
⚙️ Mobility
TechCrunch profiles Baraja and their unique lidar technology (used by autonomous vehicles to sense the world).
It's a bit difficult to grasp this concept, but once one does it's hard to see it as anything but astonishingly clever. Not just because of the fascinating optics (something I'm partial to, if it isn't obvious), but because it obviates a number of serious problems other lidars are facing or about to face.
Hyundai and Kia have invested $111.5 million in Arrival, a startup British automaker building electric delivery vans.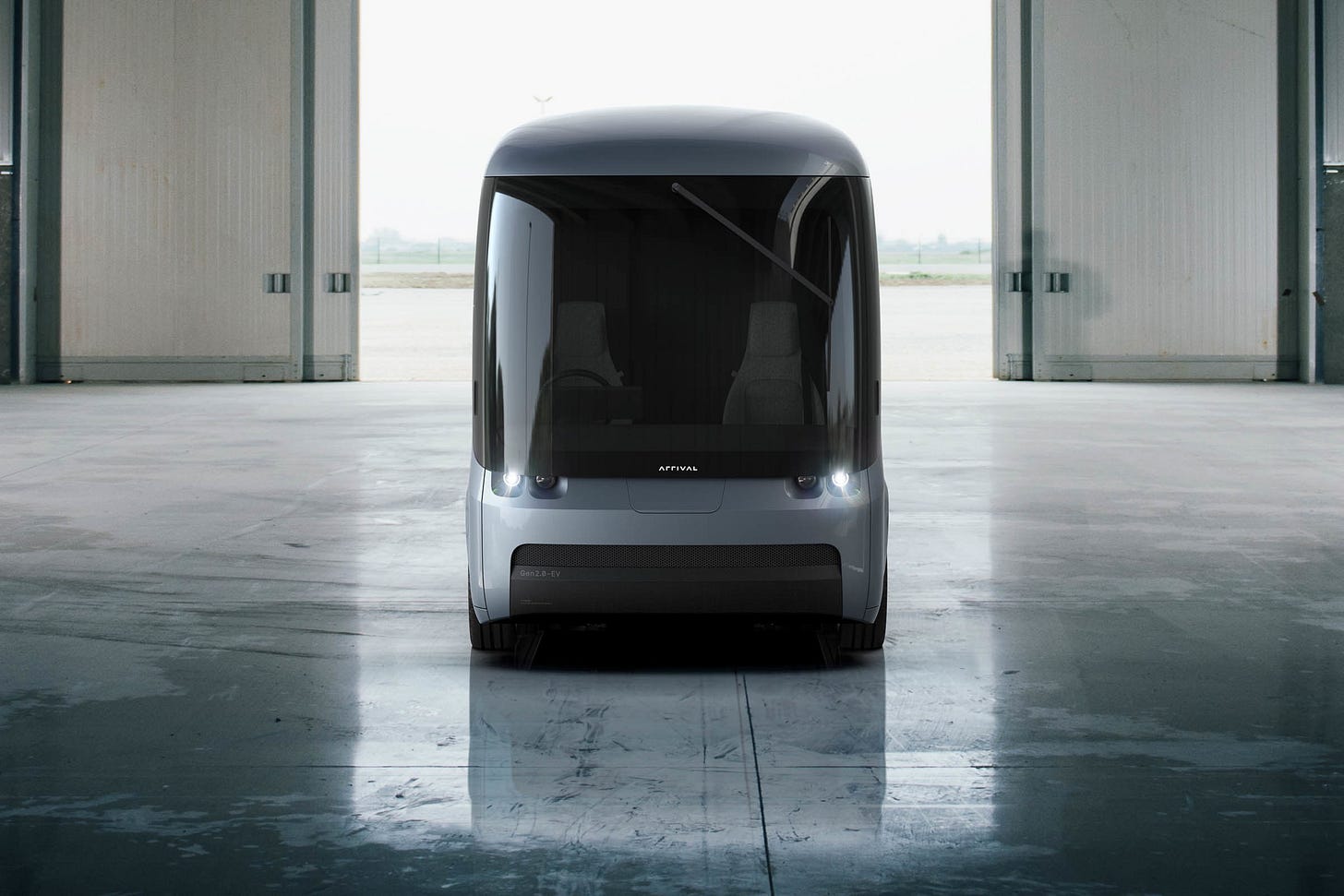 ⚡ Other Snippets
The New York Times profiles Yusaku Maezawa, the Japanese billionaire looking for a special woman to accompany him to space.
Gartner expects IT spending to hit $3.9 trillion in 2020, up 3.4%, with enterprise software spend growing 10.5% to $503 billion.
Epic Systems, a major medical records vendor, is going to stop working with Google Cloud due to insufficient interest from customers. They're going to focus on working with Amazon AWS and Microsoft Azure instead.
CNBC profiles ethical hackers in a 13 minute video that features Casey Ellis from Bugcrowd (a Startmate alumni company) and Marten Mikos from HackerOne.
An Australian neobank called Volt has raised $70 million at a reported $285 million pre-money valuation, bringing its total funding to $100 million to date. The company aims to raise another $50 million in a Series D, and plans to IPO late this year.
Australian hotel booking tech company SiteMinder has raised $100 million at a valuation of $1.1 billion. SiteMinder provides software to 35,000 hotels worldwide and connects the hotel's back-end booking system to third-party websites such as Agoda and Boooking.com.
Have a great week,
Thomas
---
About Thomas Rice
Thomas Rice is the portfolio manager for the Perpetual Global Innovation Share Fund, based in Sydney, Australia. You can find him on Twitter at @thomasrice_au.